Annaly Capital Management Inc. (NLY-N) is a REIT specialized in mortgages. The company borrows money, primarily through short-term repurchase agreements, and reinvests revenue in asset-backed securities. As of December 31, 2019, 93% of the company's assets were mortgage-backed securities issued by Fannie Mae or Freddie Mac, both companies sponsored by the United States government. The company generates profit from the net interest margin between the interest earned on its assets and its borrowing costs, which is amplified by the use of leverage.
The company is the largest of its kind in the United States, with a market capitalization of USD 10 billions, a return of -22.9% over the last year, a forward PE of 7.9, a dividend ratio of 12.6% and a net margin of -202.9%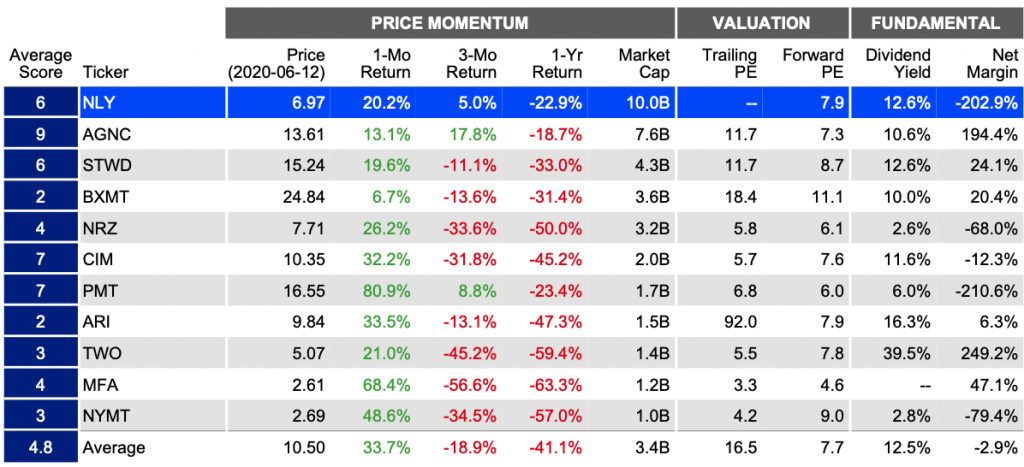 Like most REITs, Annaly has a very high dividend ratio, however we should not be blinded by such a high dividend, and evaluate the performance of the stock as a whole, in other words, considering the dividends and the appreciation of the stock.

For a 5-year investment, Anally has provided a dividend return of 52%, the share price + 32%, giving a total return of 20%. The total 1-year return is -18% especially due to a very negative return on the stock and at 15 years the total return is 12%.
It is alarming that the firm presents a net return of -202.9% at the end of 2019, part of the justification for this negative value is due to the fact that mortgage REITs usually operate with greater difficulties when interest rates have a tendency bullish as it happened in recent years until the arrival of the COVI-19 crisis. However, we can see that other Annaly competitors, such as AGNC, have a very positive net return, consequently the interest rate argument does not justify the situation entirely.
The mortgage REIT market suffered a spectacular fall during the COVI-19 crisis, echoing the great financial depression of 2008/9, where the liquidity shortage in the financial system stopped the flow of credit between entities. In Annaly's case, the drop was 61%. One of the programs of the FED consists of the massive purchase of Agency securities backed mortgages, the financial markets have responded positively to this fact, since it minimizes the bankruptcy risk of this type of entities. Additionally, the drop in interest rates has helped this type of companies allowing them to operate with higher margins. In February Annaly reached 10USD per share, in March it was around 4 USD and currently it is almost 7 USD, which implies a growth of 65% from the minimum values.