Date: 2000.
Developed by ASM Dimatec.
Clients: Seat.
Authors: Raúl Bartolomé Castro and other engineers.
Contribution of Raúl: electrical designer. Creation of schematics in ePAN, selection of electrical elements and creation of electrical documentation.
Market: automotive subsidiary.
Product category: industrial machinery.
This machine consisted of applying putty to the car's rear window, made up of two well-differentiated blocks, one heated pumps and the other a Cartesian axle system for applying the putty. The most tedious part of the design consisted in the numbering of the terminals of the electrical cabinet, as well as the manual drawing of the same.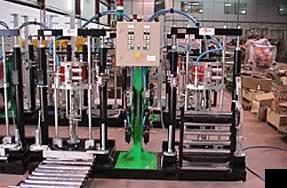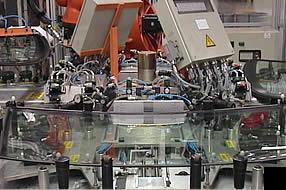 In the illustration on the left you can see the double heated pump system, in this way the flow of putty was uninterrupted. The image on the right shows the putty application system. The images do not fit the real case but the machine was conceptually similar.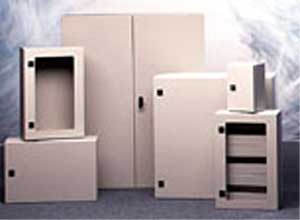 Automatics, relays, contactors, terminals, motor controllers and an infinity of electrical devices are housed in electrical cabinets like the previous ones. The technical project required to draw the cabinets in their entirety, choose the section of the cables, connections, etc.