Already passed 1 year since I started my MBA at University of Bradford, UK. In other words, I ran half program. It is being an exciting journey, very demanding but with an extraordinary step forward in my formal education.
I can feel how each passed module aggregates new management skills and changing my approach to management. Coming from engineering I was very reluctant of the value added of an MBA, however, module by module I've been changing my mind. Now I do not have any doubt that an MBA brings an inflexion point in management skills and competences.
I had in my mind for many years to pursuit an MBA program, and recently it was the right time to me. I needed an MBA compatible with my professional career, that's why I decided to go ahead with an online variant. I selected University of Bradford Distance Learning MBA due to some reasons:
Nobody argues that in order to carry out an engineering job it is necessary a formal engineering education, but in management this believe is not that strong. It is true, that you can be a successful business man without formal business education, however and MBA give you an unparalleled advantage, specially in corporative environment. An MBA gives fundamental skills in marketing, operations, accounting, business, strategy, etc. that are difficult to acquire and appreciate without tutors or professors.
Firstly, because it has a good rating in Financial Times. On 2015 it was in 8th position.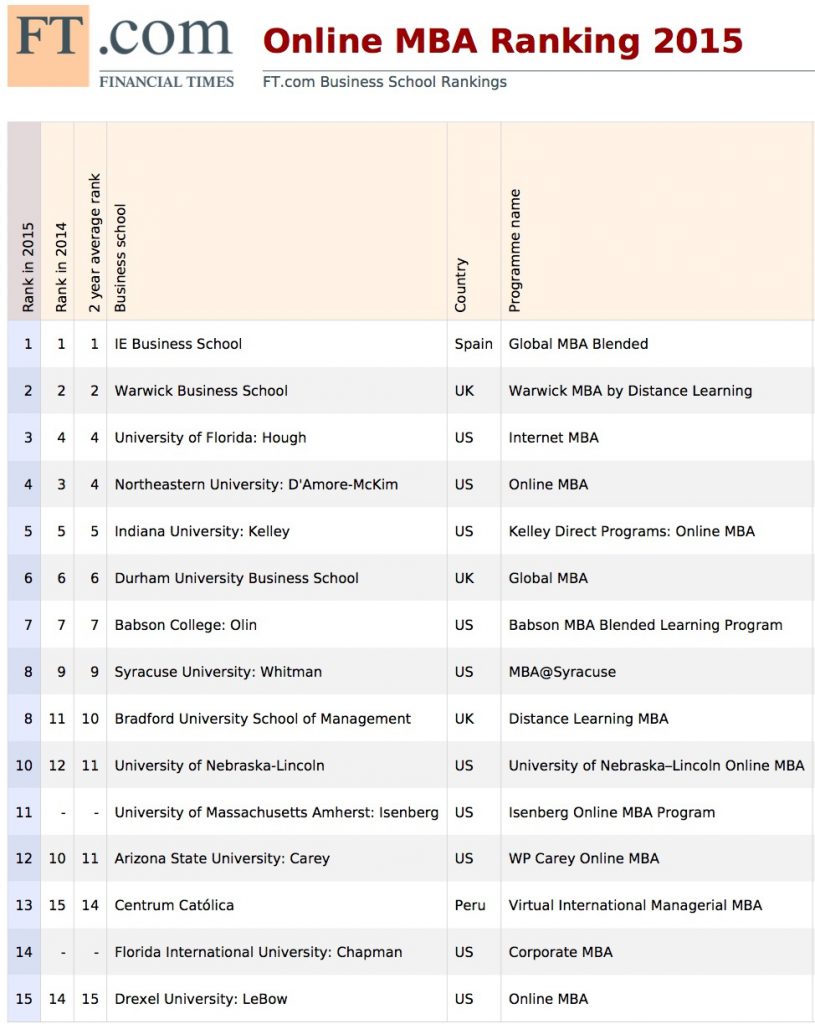 Secondly, It is an english university, I wanted to improve my english language skill. Spain, offers excellent, if not the best, business schools in the world, like IE, IESE or ESADE. Nevertheless I wanted to pursuit non spanish education, since I already coursed master in engineering at University Rovira i Virgili in Tarragona, Spain.
Thirdly, the program fee was inside of my budget. I remember having a call with a sales representative from IE, offering me outstanding programs 4 times more expensive that the offer from University of Bradford. I'm sure it was excellent, but out of my financial possibilities.
Fourthly, I wanted high quality education, so I decided to chose Triple Crown accreditation. This is an accreditation awarded to 76 business schools that includes AACSB, AMBA and EQUIS. This was a guarantee of high quality teaching, and I can confirm that I was right.
Well, now I am facing the second half of the program. I'm sure it will be ever more enlightening than the first half, since this time I will go to Bradford 2 times in order to attend face to face executives modules. I will write back in 1 year….
I am also pleased to announce that I have published the the essays/formative assessments in this blog. You can take a look and download them in the next link. So far I have published the work for the modules: marketing, operations management, managing people, managerial and professional development, business ethics and sustainability, business economics and business accounting.