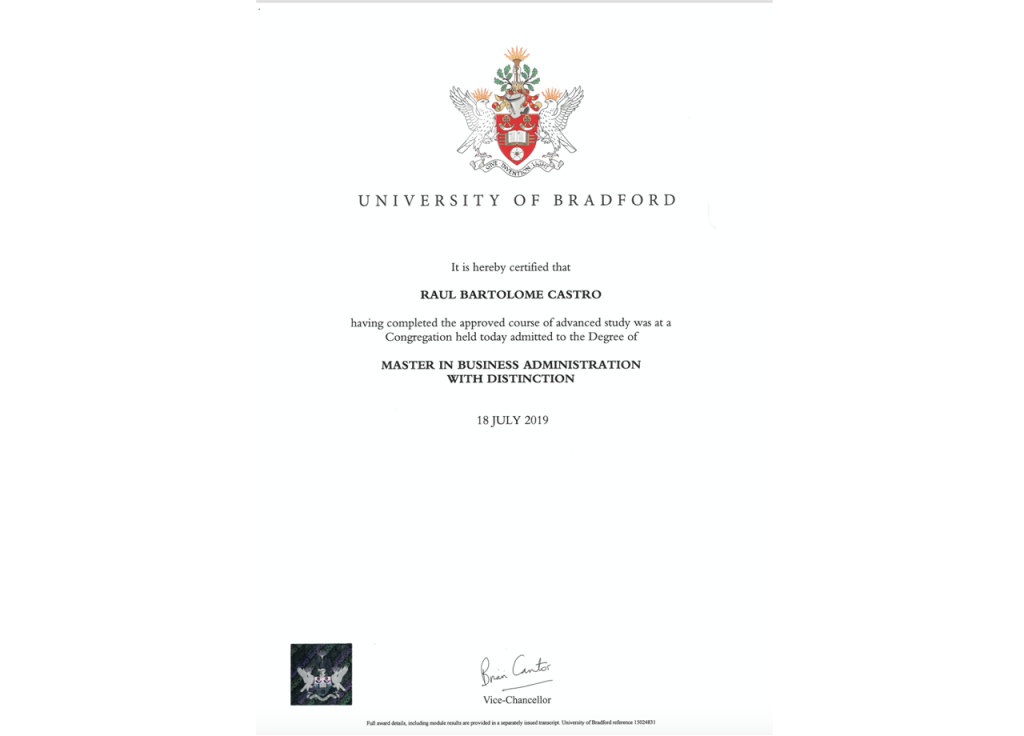 Title: Master in Business Administration
Classification of the title: Master in Business Administration with Distinction
The distinction honor is typically awarded to graduates in the top 3% of their class
Years: 2016-2019
University: University of Bradford, School of Management
Location: Bradford, Yorkshire, United Kingdom
Accreditation: AMBA, AACSB, EQUIS.
Overview
Our Master in Business Administration programme will provide you with the strategic, financial and people skills you'll need to progress and perform effectively at senior levels.
The programme combines management theory with real business application. From day one you'll be able to apply new knowledge and skills in your workplace. You will develop a broad foundation of knowledge in core modules, and focus your studies around a particular sector or discipline in elective modules.
The flexibility of the Distance Learning MBA allows you to study at your own convenience with our new Virtual Learning Environment, and we provide live online sessions with tutors that help you contextualise your learning.
Our refreshed MBA has been designed with your future employability in mind, and we continue to work with major employers on our MBA Advisory Board and International Advisory Board to ensure our syllabus deals with contemporary issues.
Established over 50 years ago, the University of Bradford School of Management has a rich heritage and an international reputation as one of the innovators in business education.
Professional accreditation
We are proud to be in an elite group of business schools to hold the triple accreditations of Equis, AMBA and AACSB, often referred to as the "triple-crown".
Our School of Management MBA programmes have been endorsed by the NHS Leadership Academy to deliver the NHS Master's in Business Administration (MBA) programme.
Rankings
In their 2020 Online MBA Rankings, The Financial Times rated our Distance Learning MBA 1st in the world for value for money, 3rd overall in the UK and 10th in the world overall. Our Distance Learning MBA is ranked 12th in the world in CEO Magazine's Global Online MBA rankings.
Modules taken
| | | |
| --- | --- | --- |
| Module | Credits | Type |
| Corporate Finance | 10 | Core |
| Business Accounting | 10 | Core |
| Business Economics | 10 | Core |
| Mergers and Acquisitions | 10 | Optional |
| International Financial Managment | 10 | Optional |
| MBA Management Project | 40 | Core |
| Marketing | 10 | Core |
| Operations Management | 10 | Core |
| Business Research | 10 | Core |
| Managing People | 10 | Core |
| Business Ethics and Sustainability | 10 | Core |
| Managerial and Professional Development | 10 | Core |
| Project Management | 10 | Optional |
| International Businesses Strategy | 10 | Optional |
| Strategic Managment | 10 | Core |
Program